Prima pagină
·
English
· Romanian YouthVoice.ro: Serbia's EU accession path. Bucharest asks guarantees against assimilation of Romanian-speaking minority of Vlachs from Timoc Valley
Romanian YouthVoice.ro: Serbia's EU accession path. Bucharest asks guarantees against assimilation of Romanian-speaking minority of Vlachs from Timoc Valley
A verdict on Serbia's bid to join the European Union was postponed Tuesday when Romania set conditions for Serbia's obtaining a status of a EU member state candidate, related to a solution to the 'Wlach issue'
Romanian YouthVoice.ro
reports.
Serbia's application to become an EU candidate nation was under scrutiny from European affairs ministers meeting Tuesday in Brussels, and a positive decision was widely expected after critics such as Germany had withdrawn their opposition. But when Romania raised its own critics, Germany said that is regrettable.
"Serbia deserves candidate status," said European Commission president Jose Manuel Barroso after meeting Serbian President Boris Tadic, who held a busy round of meetings in Brussels as ministers reviewed his country's bid.
But Romania refused to sign on asking guarantees for Serbia's Romanian-speaking minority of Vlachs, a move that broke up the ministerial meeting and sent diplomats into talks in search of a compromise. A final statement, agreed also by Romania, passed the problem on to EU leaders meeting in Brussels on Thursday and Friday, while underlining Serbia's progress on the EU path.
Romanian Foreign Minister Cristian Diaconescu told AFP that Bucharest was merely seeking "normal" guarantees for Serbia's Vlachs. "You can't speak of a blockage," Diaconescu told AFP in Bucharest. Romania "adopted a well-founded position to defend minority rights in a region, the western Balkans, which have a complex history in this domain." He said Romania had agreed to recommend Serbia's EU candidacy after receiving assurances, among others, that the European Commission would produce a progress report on minority rights there by September 2012.
Criticism allowed only if it is German
Germany, one of the toughest critics of Belgrade and one of the last EU nations to support its bid, said it regretted Romania's decision to raise conditions. Basically, if Germany has conditions they are legitimate. When they do not have, any condition is not acceptable…
German Foreign Minister Guido Westerwelle criticized Romania's decision to block a final decision on granting Serbia the status of candidate country. The Swedish minister of foreign affairs also issued veiled criticism of Romania's strategy. Bucharest's stance is firm: we want guarantees for the rights of the Romanian minority in Serbia, Realitatea.net writes.
Berlin voiced discontent with Romania's attitude, after the country blocked a final decision on granting Serbia candidate statues during a meeting of EU Foreign ministers on Tuesday. A final decision is to be made at the European Council at the end of the week.
"All we could give was a recommendation, because Romania was not ready to give its approval today. I regret this. It has to do with internal politics reasons of the Romanian delegation," said Westerwelle, quoted by Tagesspiegel. According to German press reports, European diplomats were surprised by Romania's stance, given that the country did not raise the issue of minorities until now. Brussels diplomats got the impression that the Romanian FM "acted on the indications of President Basescu" according to Frankfurter Allgemeine Zeitung.
Surpriseingly for a German diplomat, Westerwelle is far from the reality! This is not, by any means, a internal problem. Romania has raised many times the attention on the ethnic assimilation process that Serbia is conducting with the Romanians (called by the Serbs as Vlachs) in Timoc Valley. Morover, recently Serbia has done furtner stepts forwared to invent a new language "Vlach language", a Romanian official declared on Tuesday.
Romania believes that, in Serbia, there are serious issues as regards the observance of the national minorities rights
, in conditions in which this keeps to the political criterion for the start of accession negotiations to the European Union, said on Wednesday Minister of European Affairs and ExEuropean Commissioner for Multilingualism, Leonard Orban.
The issue of the Vlach language
The issue that aggravated the warries of the Romanian Government is that at the beginning of 2012 Serbian authorities made stepts forwared to invent and standardize a new language
"the Vlach language"
. The National Council of the Vlah minority, which should represent the interests of the Vlach/Romanian minority in Serbia was overtaken by Serbian parties in 2009. More exactly, Serbian authorities have allowed and encouraged nonVlachs/nonRomanians to participate for this election.
Thus, the Serbian parties were allowed to participate and took control of the Council. From that moment, the activity of the Council was directed for the replacement of the Romanian language in Timoc Valley (a Romanian majoritary area) of Serbia with a new invention, the "Vlah language". Thus, at the beginning of 2012 the pioneers of this new linguistic invention have created already a new alphabet that is ready to be imposed to the Romanians (Vlachs) in Timoc.
What Romania wants
At the European Council on March 1 and 2, Romania and Serbia are set to signe a protocol for minorities, which provides that the Serbian state has no right to interfere in the Romanian minority's right to define themselves (as they did in 2009, taking over the leadership of the Vlach National Council, y.v. note), FM Cristian Diaconescu told B1TV, according to NewsIn. Other elements in the protocol refer to ethnic, religious identity and education in Romanian, Diaconescu said.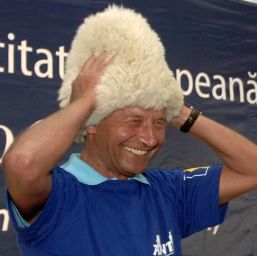 The Romanian community in Serbia counts about 250,000 people, most of them living in Timoc Valley, in the east of Serbia, and in Vojvodina, in the north. But while Romanians in Vojvodina were officially recognized, those in Timoc never benefited from the rights generally granted to national minorities.
Some members of ethnic Vlach community also consider themselves Romanian, while other Vlachs think of themselves as Serbian. Romanian president Traian Basescu has urged Serbia to grant ethnic Romanians living on its territory the right to education in the Romanian language and access to services in Romanian Orthodox churches.
"We ask (Serbian authorities) to grant them the right to tuition in Romanian, to have an Orthodox church, to have a newspaper in their language, to have the right to tune into Romanian television or have a broadcast in Romanian," Mr Basescu told a gathering of ethnic Romanians last year after meeting Serbian president Boris Tadic.
The Serbian response
The authorities in Belgrade continue to insult Bucharest bringing in front false leaders of the Vlach (Romanian) minority. The Vlach (Romanian) leaders in Timoc do not recognize the "leaders" Vlach National Council in Serbia since the council was overtaken by Serbian parties in 2009 with the support of Belgrade and the council do not represent the Vlachs/Romanians any more but the official policy of the Serbian state. In this context, the president of the Vlach National Council, Radiša Dragojević, entered the arena to support the position of Belgrade: "Regardless of all similarities, those are two autochthonous national minorities. Romanians consider Romania their motherland. Vlachs consider Serbia their motherland. We have no objections, nor any basis to turn to Romania, nor does Romania have any basis to make any demands on our behalf".
According to him, "a dissatisfied group within the Vlach community believes that their language is Romanian", and they were the ones who "created the problem by turning to the authorities in Romania".
But the "dissatisfied" group they are actually Vlachs (Romanians) and Mr. Dragojević is just a representative of a Serbian Party that declared himself a Vlach in order to put in practice the Serbian authorities plan to get over the leadership of the Vlach National Council.
Also, Bor, a regional TV channel that broadcasts in eastern Serbia, home to most of the country's Vlach community, said it would start to complement its programming with subtitles in an approved "Vlach language" (
the new linguistic invention of Serbia which is in fact Romanian with Cyrillic letetrs
).
Serbian President Boris Tadic, in Brussels, told a press conference that Romania's "objections to include guarantees for the respect of minorities' rights are unjustified."
Asked whether he was surprised by Romania's hard-line position against Serbian candidacy over the issue of the Romanian speaking Vlach minority, Tadić said that he spoke to his Romanian counterpart Traian Basescu about Romanian demands to receive "firm guarantees about protection of rights of the Romanian minority in Serbia".
"That is their principled issue and Romania, like any other country, is doing nothing but defending its interests, wishing to protect its ethnic community in a neighboring country. We respect human rights and freedoms and that is an issue of respecting the principles we fought for in the 1990s," said Tadić, who was an opposition politician in that period.
Serbian President Boris Tadić said Tuesday night that the EU accession was a complex process during which every EU member state could impose its own condition. He stressed, however, that Serbia would not agree to impossible conditions and would not give up on its principles.
"The core of the issue of Vlach minority lies in the fact that Romania expects Vlachs residing in Serbia to declare themselves as members of the Romanian national minority, but some Vlachs oppose that," he explained.
Tadic added that Serbia and Romania had been friends historically and that they still enjoyed the best possible relations, but warned that the Vlach question was complicated, trying to suggest that it should be a regional decision also for the Vlachs in Albania, Macedonia, Greece and Croatia.
Romania is one of the five EU members that did not recognize Kosovo's unilateral declaration of independence.
Vasile Ghimbici
Source:
Romanian YouthVoice.ro
SHARE OR BOOKMARK THIS POST:
29.02.2012. 18:17
Comments
Acest articol n-are nici un comentariu.